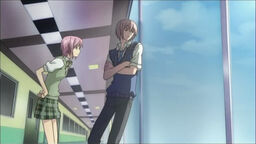 Kokusen Academy is the high school that 
Yahiro Saiga
and
Sakura Ushikubo
 go to. It is said to be almost as prestigous as
Hakusenkan Academy
. The school is also fancy its self, for Kokusen has a gourmet food court and a spa. Kokusen also is a very high-tech school, for the students must wear badges to get through their main gates, or they will get lazered (only seen in the manga). Kokusen also hosts lots of festivals just like the S.A Students of S.A

Students                                                                        
These are students that play an important role and attend Kokusen:
Uniforms
Kokusen Academy students are usually seen wearing white polos and a vest, the boys wear blue vests and the girls wear green, as seen on Sakura in the picture to the right. The boys wear pants and the girls wear plaid skirts. The girls also wear green bow ties while the boys just wear plain blue ties.
Ad blocker interference detected!
Wikia is a free-to-use site that makes money from advertising. We have a modified experience for viewers using ad blockers

Wikia is not accessible if you've made further modifications. Remove the custom ad blocker rule(s) and the page will load as expected.